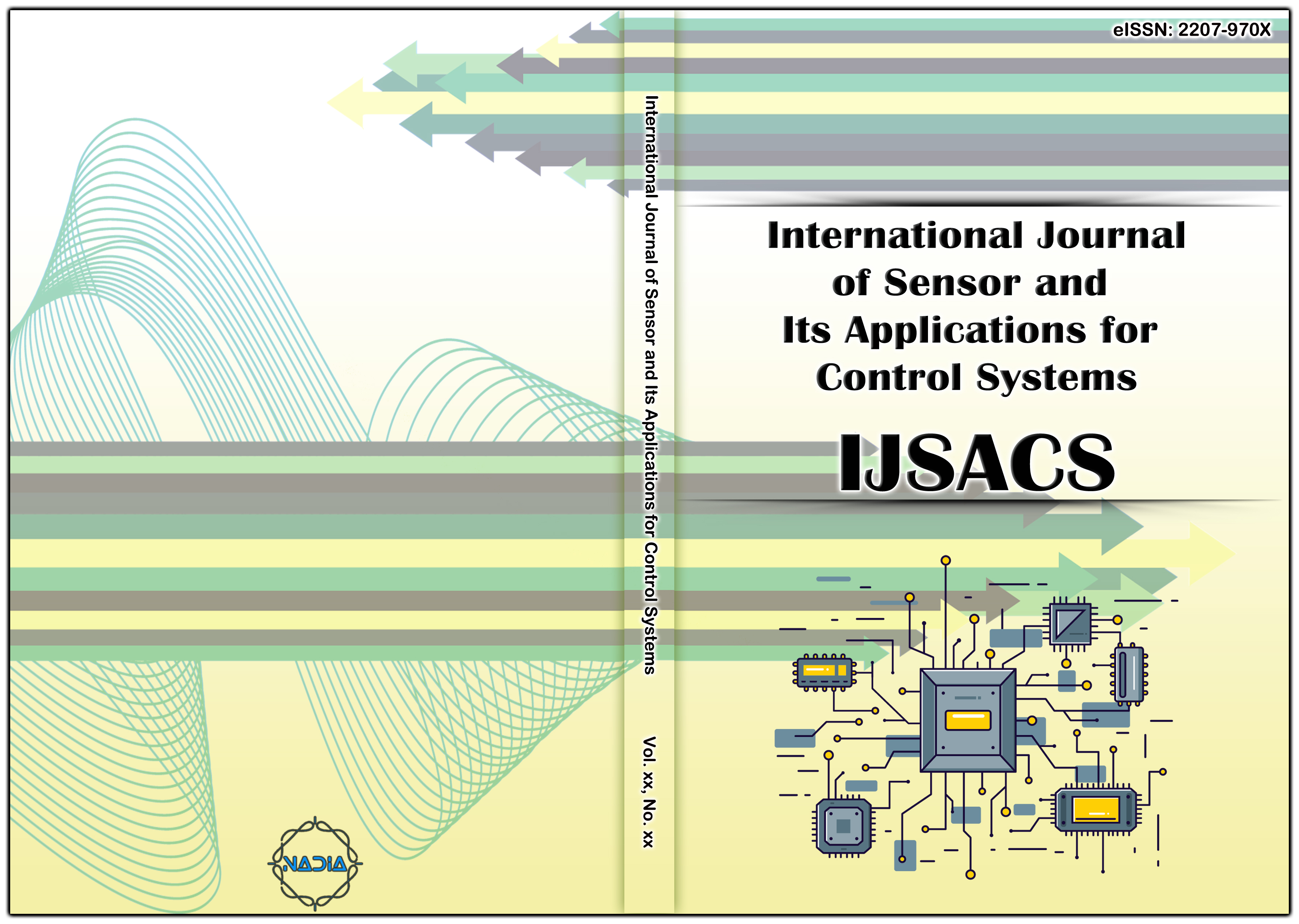 Bibliographic Information
ISSN: 2287-8467 (Print)
ISSN: 2207-6344 (Online)
Publisher: NADIA
IJSACS aims to facilitate and support research related to sensor and its applications for control systems.
Our Journal provides a chance for academic and industry professionals to discuss recent progress in the area of sensor and its applications for control systems.
Ad Hoc Networks
Agent-based Simulation
Aggregation, Classification and Tracking
Array Processing of Nonstationary Signals
Authentication
Coding and Compression
Connectivity and Communication
Cooperating Objects
Data Mining
Data Overload
Data Quality and Integrity
Data Visualization
Decision Support
Defense and Security
Distributed and Collaborative Signal Processing
DNA Computing
Electronic Interfaces
Electronic Nose
Electronic Tongue
Energy Efficiency
Environment Monitoring
Environmental Impact Reduction
Fault Detection
Fault Tolerance and Diagnosis
Gas Analysis and Sensing
Hardware Design, Fabrication Techniques
Healthcare
Hierarchical Networks
Home Monitoring and Assisted Living Applications
Indexing and Publishing
Industrial and Structural Monitoring
Infrastructure Reliability
Internet of Things
Interoperability
Measurement and Control of Water
Medical Imaging
MEMS
Multimedia/Audio Signal Processing
Multi-sensor Data Processing
Network Architecture
Network Performance
Neural Networks
Packaging, Testing and Reliability
Pattern Recognition
Platforms and Operating Systems
Power Management
Programming and Middleware
Real-time Constraints
Reasoning on Sensor Data
Remote Sensing and Telemetry
RFID Readers and Tags
Routing Techniques
Scheduling, Tasking and Control
Security: Vulnerability and Privacy
Self-healing
Sensor Data Fusion
Sensor Types for Chemical and Biomedical Applications
Smart Buildings and Smart Cities
Smart Fabrics and Wearables
Smart Grids and Energy Control Systems
Sparse Signal Processing
Sport and Leisure
Statistical and Adaptive Signal Processing
Swarm Sensors
Technologies and Standards
Ubiquitous Computing
Vehicular Networks
Well-being and Well-working
WiFi, ZigBee, WiMax, Bluetooth
Wireless Mesh Networks
Wireless Network Protocols 
Editorial Board
A noble working association is desirable amongst the editorial board and the journal.


Ethics and Malpractice
A peer-reviewed journal committed to ensuring the highest standards of publication ethics.
Authors Guidelines
Authors of original research articles are encouraged to submit the author's version of the accepted paper.
Our Indexing
Indexing of a journal provides better visibility of the journal with a wider user.


Contents
IJSACS publish articles in a semiannually basis.



Submission
Authors must submit their article directly to IJSACS Journal Online Submission System.

Special Issue Proposal
IJSACS invites Special Issue Proposal relating to any area of advanced science and technology.
Journal Paper Template
Authors are required to following the correct paper formatting of this journal.