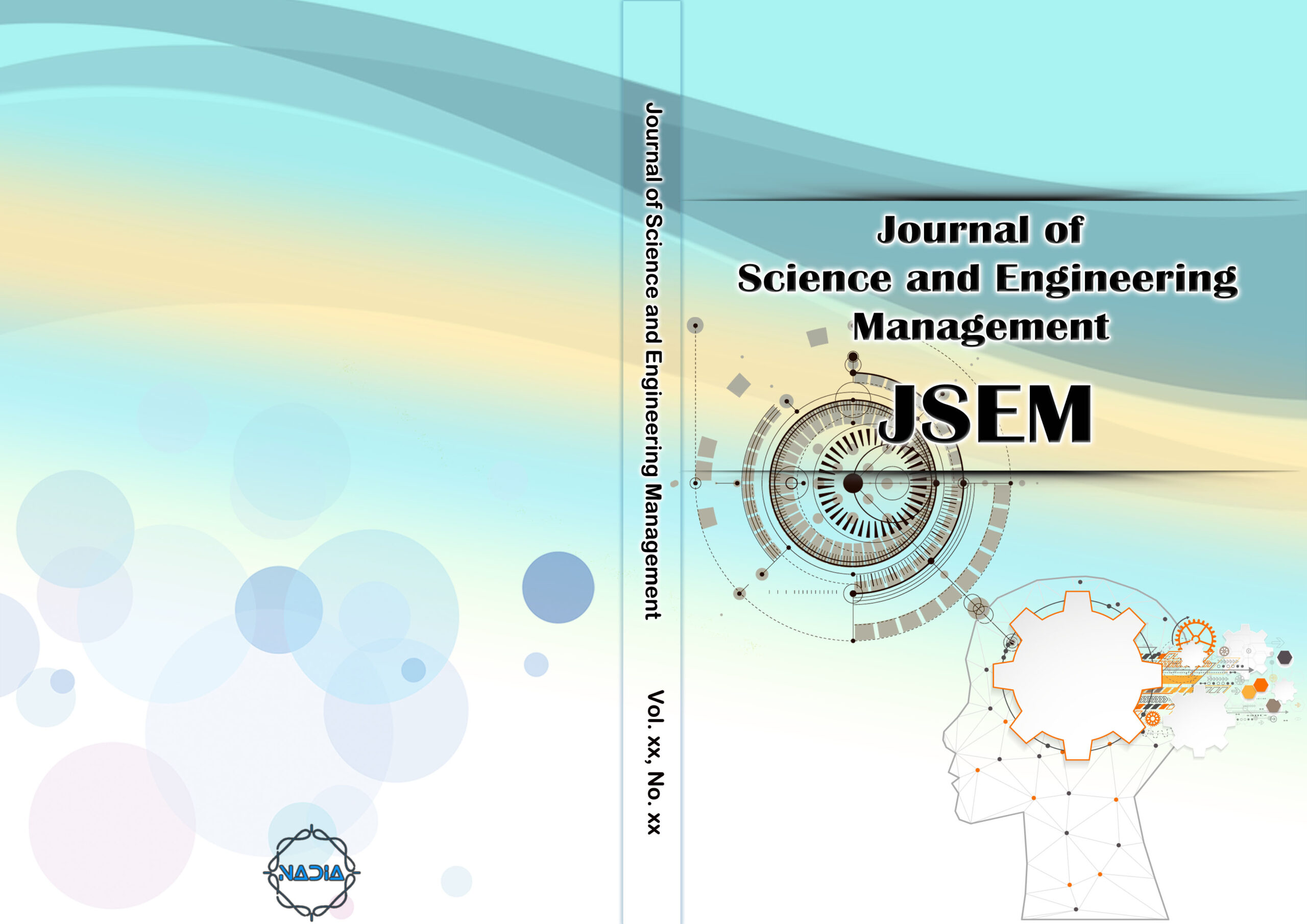 Bibliographic Information
ISSN:  (Print)
ISSN:  (Online)
Publisher: NADIA
JSEM aims to facilitate and support research related to science and engineering management.
Our Journal provides a chance for academic and industry professionals to discuss recent progress in the areas of science and engineering management.
Geotechnical Engineering
Highway Engineering
Hydrotechnical engineering
Informatics in Healthcare and Biomedicine
Information Technology
Innovations in Diagnosis & Treatment
Innovations in Immunology
Innovations in Neurosciences
Innovations in Cardiology
Instrumentation Engineering
Logistics and Supply Chain Management
Marine Biodiversity
Marine Biology
Marine Biotechnology
Marine Chemistry
Marine Ecology
Marine Environment
Marine Genomics
Marine Resources
Material Science
Mathematics
Mechanical Engineering
Meta-modeling
Mobile Computing
Nano Technology
Neural and Rehabilitation Engineering
Neural Networks
New Inventions & Patents
Non-Traditional Machining Processes
Nuclear Power Engineering
Ocean and Marine Engineering
Ocean Engineering
Operations Management
Physical Oceanography
Plastic Engineering
Railroad Engineering
Regulatory Science in Biomedical Engineering
Reliability and Maintenance Engineering
Renewable Energy Techniques
Renovation of Buildings
Road and Bridge Engineering
Robotics
Rock Mechanics
Rural Technology
Software Engineering
Software Testing & Hardware Technology
Soil and Structural Dynamics
Structural and Earthquake Engineering
Structural Engineering
Structural Mechanics and Physics
Surveying & Geo-spatial Engineering
Surveying Engineering
System Identification and Modeling
Textile Engineering
Therapeutic and Diagnostic Technology
Transportation Engineering
Tunnel Engineering
Urban Engineering
Visual Communication System
VLSI Design and Testing
Water Engineering
Water Science and Engineering
Web Designing
Wireless Sensor Network
Editorial Board
A noble working association is desirable amongst the editorial board and the journal.


Ethics and Malpractice
A peer-reviewed journal committed to ensuring the highest standards of publication ethics.
Authors Guidelines
Authors of original research articles are encouraged to submit the author's version of the accepted paper.
Our Indexing
Indexing of a journal provides better visibility of the journal with a wider user.


Contents
JSEM publish articles in a annually basis.



Submission
Authors must submit their article directly to JSEM Journal Online Submission System.
Special Issue Proposal
JSEM invites Special Issue Proposal relating to any area of science and engineering management.
Journal Paper Template
Authors are required to following the correct paper formatting of this journal.