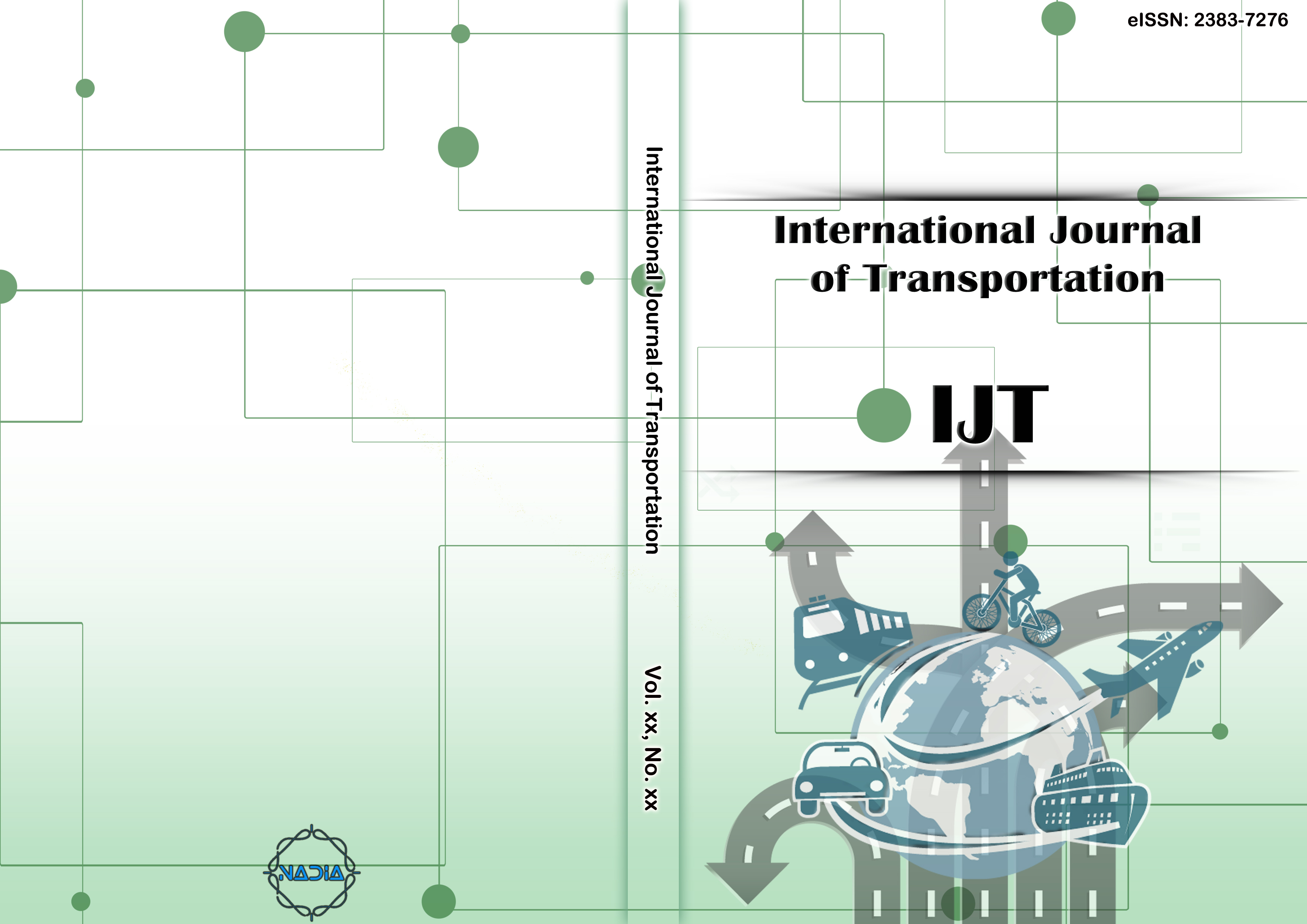 Bibliographic Information
ISSN: 2287-7940 (Print)
ISSN: 2383-7276 (Online)
Publisher: NADIA
IJT aims to facilitate and support research related to transportation and its applications.
Our Journal provides a chance for academic and industry professionals to discuss recent progress in the area of transportation. The merit of this journal is to expedite the review process in order to deliver emerging issues timely.
Transportation Engineering
Vehicle Operations and Maintenance
Highway Engineering
Highway Maintenance and Management
Highway Geometric Design
Transportation Planning
Land use and transport integration
Transportation and socioeconomic development
Transportation planning and system optimization
Transportation Survey
Travel Behaviors
Intelligent Transportation Systems (ITS)
Transportation Information

Traveler Information, In-Vehicle Information Systems
Transportation Information Processing Theories and Methods
Transportation Information Acquisition Methods

ITS theory and applications
Transport Modeling and Simulation
Transportation Network

Network Optimization
Modeling and simulation of transportation networks

Pedestrian Modeling and Simulation

Cellular Automata
Forced Based
Hybrid Model
Transportation Management, Economics and Policy
Management Leadership
Research and Education
Sustainable Transportation
Transport & Energy
Energy Saving and Alternative Energy
Transport Safety and Security
Security and Monitoring Systems
Transportation Safety Data Analysis Methods
Transportation Safety Models and Evaluation Methods
Transportation security, environmental protection, and sustainable development
Transportation System
Transportation System Optimization Models
Transportation Systems Detection Technology
Transportation Infrastructure
Transportation Infrastructure (Pavement, Bridge)
Metropolitan Transportation
Urban transport management
Urban Traffic Safety and Slow Traffic
Public transport systems

Urban public transportation planning and management

Parking
Disaster Management
Emergency Response Systems and Technologies
Information Science
Remote Sensing

Remote Sensor and Sensor Systems

Data Mining Theories and Methods
Multi Object Tracking
Data Fusion Technology
Multi-agent system

Agent-based simulation/other simulation approaches

Geographic Information Systems for Transportation
Environmentally Friendly Transport Modes
Non Motorized Vehicle
Pedestrian
Rail and Transit Systems
High-speed railway planning, construction, and operation organization
Railway Safety Theory and Technology
Safety Considerations in Railway Operation Management
Air Transportation
Aviation Safety Theory and Technology
Safety Considerations in Aviation Operation Management
Marine and Water Transportation
Inland waterway transport
Logistics
Logistic Engineering
Supply Chain Management
Freight Transportation
Inter-modal transport systems
Editorial Board
A noble working association is desirable amongst the editorial board and the journal.


Ethics and Malpractice
A peer-reviewed journal committed to ensuring the highest standards of publication ethics.
Authors Guidelines
Authors of original research articles are encouraged to submit the author's version of the accepted paper.
Our Indexing
Indexing of a journal provides better visibility of the journal with a wider user.


Contents
IJT publish articles in a triannually basis.



Submission
Authors must submit their article directly to IJT Journal Online Submission System.


Special Issue
IJT invites you to submit your paper in our Special Issue.


Journal Paper Template
Authors are required to following the correct paper formatting of this journal.