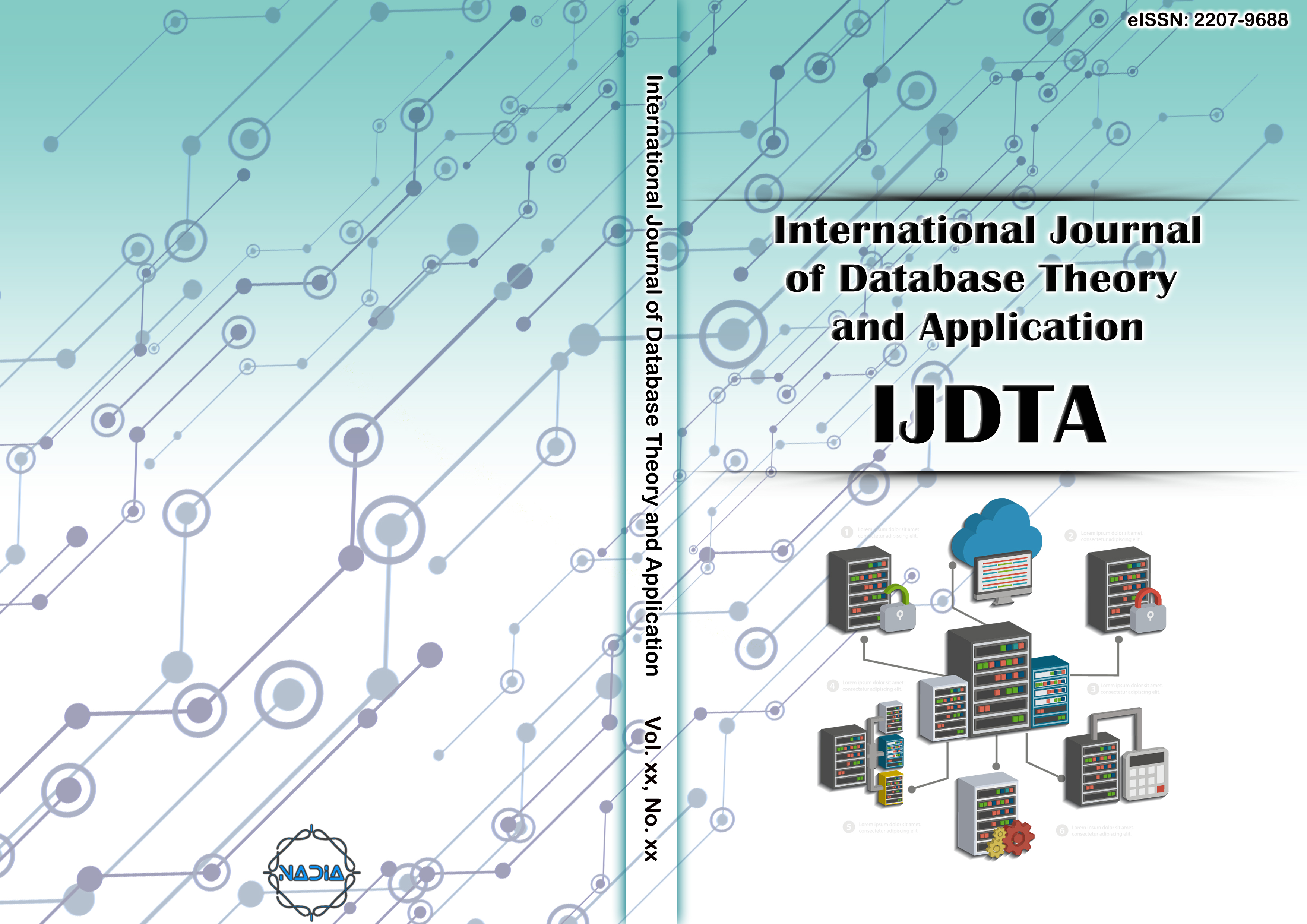 Bibliographic Information
ISSN: 2005-4270 (Print)
ISSN: 2207-9688 (Online)
Publisher: NADIA
IJDTA aims to facilitate and support research related to database theory and application technology.
Our Journal provides a chance for academic and industry professionals to discuss recent progress in the area of database theory and application technology.
Artificial Intelligence
Big Data Modeling, Computing, Indexing, Query Processing, and Mapping
Biology (Bioinformatics)
Biomedical and healthcare data mining privacy
Biostatistics
Business Analytics/Intelligence
Business/Economics and (Computational) Finance
Computer Science Database Management Systems
Cryptographic Tools for Privacy Preserving Data Mining
Data Analysis
Data and Knowledge Visualization
Data Integration and Interoperability
Data Management for Ubiquitous and Mobile Computing
Data Management, Mining, Modeling, and Warehousing
Data Modeling and Architectures
Data Quality
Data Security, Privacy and Trust
Dynamic Data Mining
Engineering
Exploiting and Developing Mathematical and Statistical Analytics and Algorithms
Inference and Disclosure Control for Data Mining
Integration of Data Warehousing
Management Science, Operations Research, and Management Information Systems
Mathematics/Statistics
Parallel and Distributed Data Mining
Physical Database Design and Performance Evaluation
Privacy and Security when Mining Outsourced Data
Privacy Preserving Data Aggregation and Integration
Privacy Preserving Data Mining
Privacy Threats due to Data Mining
Query processing and Optimization
Reliability and Robustness Issues
Reviews, Surveys, and Opportunities in Data Analytics Research, Innovation, and Applications
Scientific Databases
Security and Privacy in Spatio-temporal Data Mining
Social and Mathematical Statistics
Social Statistics
Software Warehouse and Software Mining
Temporal Data
Text Mining
Trust Management for Data Mining
Web Data and the Internet
Web Services
XML
Editorial Board
A noble working association is desirable amongst the editorial board and the journal.


Ethics and Malpractice
A peer-reviewed journal committed to ensuring the highest standards of publication ethics.
Authors Guidelines
Authors of original research articles are encouraged to submit the author's version of the accepted paper.
Our Indexing
Indexing of a journal provides better visibility of the journal with a wider user.


Contents
IJDTA publish articles in a quarterly basis.



Submission
Authors must submit their article directly to IJDTA Journal Online Submission System.
Special Issue
IJDTA invites you to submit your paper in our Special Issue.


Journal Paper Template
Authors are required to following the correct paper formatting of this journal.