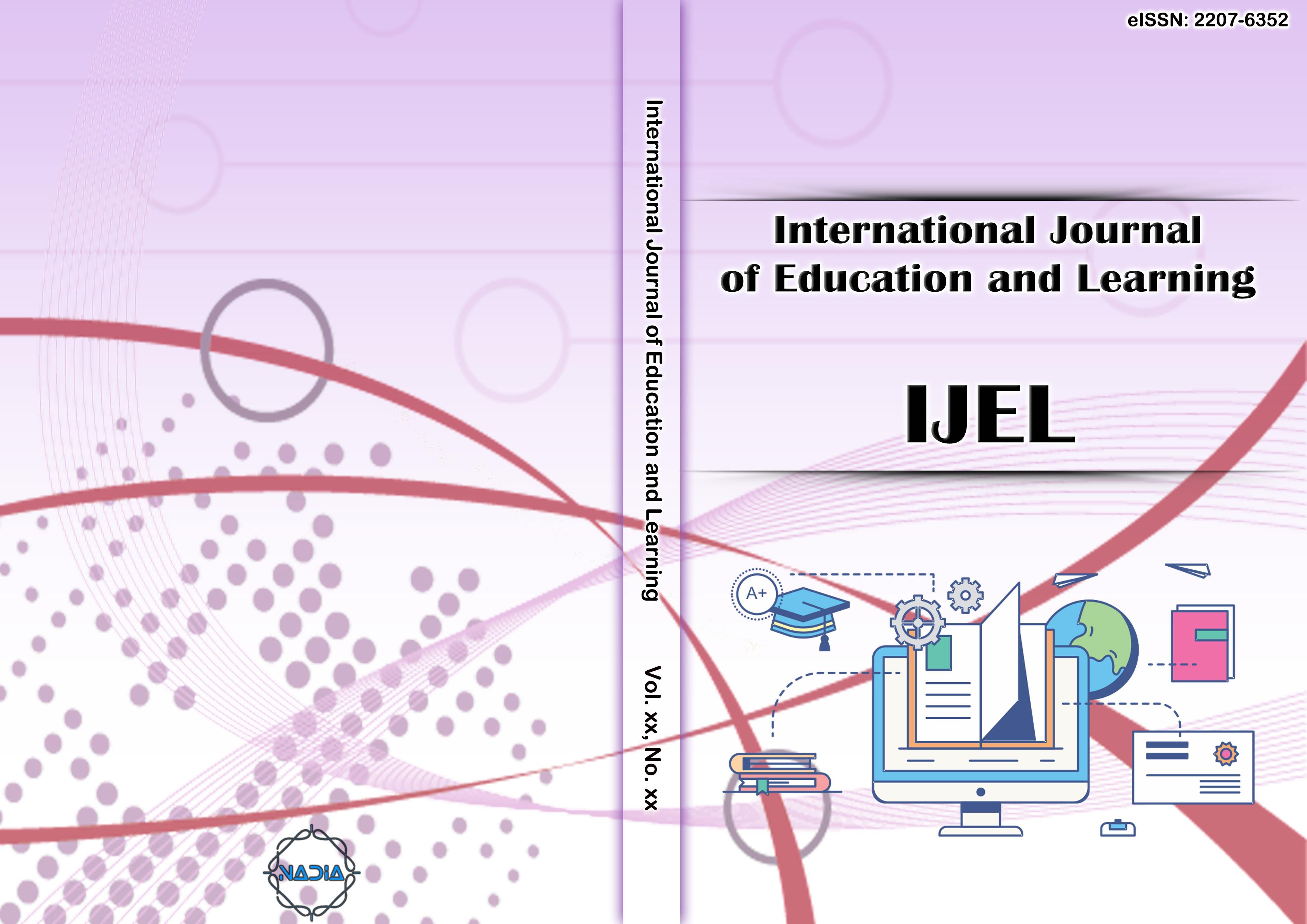 Bibliographic Information
ISSN: 2234-8034 (Print)
ISSN: 2207-6352 (Online)
Publisher: NADIA
Advisory/Editorial Boards
Abdullah Al Zoubi, Princess Sumaya University for Technology, Amman, Jordan
Abdullah Aydın, Ahi Evran University, Turkey
Ali Moeini, University of Tehran, Iran
Alias Masek, Universiti Tun Hussein Onn Malaysia, Malaysia
Amine Berqia, University of Algarve, Faro, Portugal
Andrew Goh, International Management Journals, Singapore
Anita Welch, North Dakota State University, USA
Arnelyn Torres, Hanseo University, Korea
Atila Yildirim, Necmettin Erbakan University, Turkey 
Asha Kanwar, Commonwealth of Learning, Canada
Birgit Oberer, Sakarya University, Turkey
Bulent Acma, Anadolu University, Eskisehir, Turkey
Cheah Phaik Kin, Universiti Tunku Abdul Rahman (UTAR) Kampar, Malaysia
Chitharanjandas Chinnapaka, London Metropolitan University, London
Daniela Maria Cretu, University "Lucian Blaga" of Sibiu, Romania
David Guralnick, University of Columbia, USA
Florin D. Salajan, North Dakota State University in Fargo, ND, USA
Francisca Onaolapo Oladipo, Nnamdi Azikiwe University, Awka, Nigeria
I Made Putrawan, Universitas Negeri Jakarta, Indonesia
Iuliana Barna, University Dunarea de Jos Galati, Romania
Jacinta Agbarachi Opara, Federal College of Education(Technical), Omoku, Nigeria
Jeton McClinton, Jackson State University, USA
Jonathan Adedayo Odukoya, Covenant University, Nigeria
Khitam Shraim, An-Najah National University
Mads Bo-Kristensen, Resource Center for Integration, Vejle, Denmark
Man Fung Lo, The Hong Kong Polytechnic University, Hong Kong
Marga Franco i Casamitjana, Universitat Oberta de Catalunya, Spain
Martina Blašková, University of Zilina, Slovakia
Miftachul Huda, Universiti Teknologi Malaysia, Malaysia
Mohd Helmy Abd Wahab, Universiti Tun Hussein Onn Malaysia (UTHM), Malaysia
Mona Laroussi, Institut National des Sciences Appliquées et de la Technologie, Tunisia
Nihan Turhan Sölpük, Fatih Sultan Mehmet Vakif University, Turkey
Pankaj Kamthan, Concordia University, Canada
Philip L. Balcaen, University of British Columbia Okanagan, Canada
Osman Sadeck, Western Cape Education Department, South Africa
Ramayah Thurasamy, University Sains Malaysia, Penang, Malaysia
Reetu Chandra, National Council of Educational Research and Training, India
Robert Wierzbicki, University of Applied Sciences Mittweida, Germany
Rozhan Mohammed Idrus, Universiti Sains Malaysia, Malaysia
Santosh Kumar Behera, Sidho-Kanho-Birsha University, India
Sapna Tyagi, Institute of Management Studies(IMS), India
Satyadhyan Chickerur, B V Bhoomaraddi College of Engineering and Technology, India
Selwyn Piramuthu, University of Florida, Gainesville, USA
Sheila Jagannathan, World Bank Institute, Washington, USA
Sheryl Buckley, University of Johannesburg, South Africa
Soh Or Kan, Asia e University (AeU), Malaysia
Sri Adi Widodo, Universitas Sarjanawiyata Tamansiswa, Indonesia
Stamatis Papadakis, University of Crete, Greece 
Stella Lee, Athabasca University, Canada
Toor, Saba Khalil, T.E.C.H Society, Pakistan
Vahid Motamedi, Kharazmi University, Iran
Victor Romando Wilburn, Southeast Missouri State University, USA
Vighnarajah Selvarajah, UCSI University, Malaysia
About
IJEL aims to facilitate and support research related to education, learning and its application.
Ethics and Malpractice
A peer-reviewed journal committed to ensuring the highest standards of publication ethics.
Authors Guidelines
Authors of original research articles are encouraged to submit the author's version of the accepted paper.
Our Indexing
Indexing of a journal provides better visibility of the journal with a wider user.


Contents
IJEL publish articles in a semiannually basis.



Submission
Authors must submit their article directly to IJEL Journal Online Submission System.


Special Issue
IJEL invites you to submit your paper in our Special Issue Proposal.
Journal Paper Template
Authors are required to following the correct paper formatting of this journal.