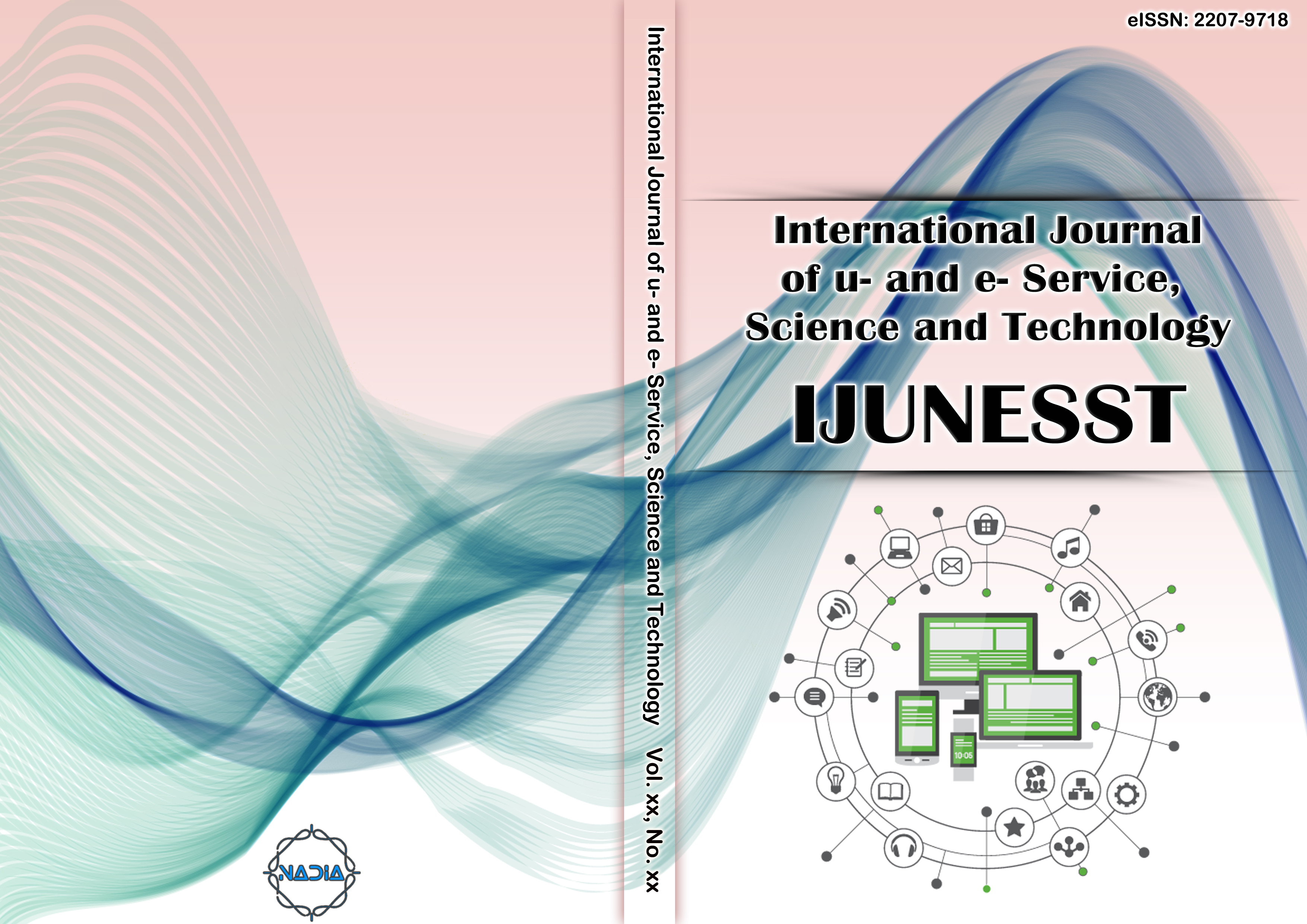 Bibliographic Information
ISSN: 2005-4246 (Print)
ISSN: 2207-9718 (Online)
Publisher: NADIA
IJUNESST aims to facilitate and support research related to u- and e- Service, Science and Technology and its applications.
Our Journal provides a chance for academic and industry professionals to discuss recent progress in the area of u- and e- Service, Science and Technology.
Adoption of Standards and Protocols for e- or u-Business Applications
B2B, B2C and C2C Architectures
Case Studies in Industry and Government
Collaborative Business Systems
Compression Methodology
CRM and Business Solutions
Data and Knowledge Engineering
e- or u-Banking
e- or u-Business Systems for Multiple Platforms
e- or u-Entertainment
e- or u-Government
e- or u-Learning
e- or u-Marketing and Consumer Behavior
e- or u-Negotiation and Auction Mechanisms
e- or u-Payment Systems
GPS Applications and Location-based Services
Grid Computing for e- or u-Business
Healthcare and Medical Applications
Intellectual Rights
Interoperability and Integration
m-Business and Ubiquitous Services
Mobile Services and Architectures
Mobility Management in Next Generation Networks
Multi-Agent Systems and Information Integration
Open Source Technologies in e- or u-Business
Quality of Service (QoS) and Metrics
Security and Privacy
Semantic Web Applications and Ontology Sharing
Service-Oriented Architectures
Steganography Technology
Supply-chain Management
Systems Development and Evaluation
Telematics and Middleware Platforms
Trust and Privacy Issues in Social Networks
User Interfaces and Usability
Virtual Organizations
VPN Technology and Services
Web Data Visualization
Web Personalization and Decision Making
Web Services
Web Site Monitoring and Optimization
Workflow Management Systems
XML and Domain Mark-up Languages
Others
Editorial Board
A noble working association is desirable amongst the editorial board and the journal.


Ethics and Malpractice
A peer-reviewed journal committed to ensuring the highest standards of publication ethics.
Authors Guidelines
Authors of original research articles are encouraged to submit the author's version of the accepted paper.
Our Indexing
Indexing of a journal provides better visibility of the journal with a wider user.


Contents
IJUNESST publish articles in a quarterly basis.



Submission
Authors must submit their article directly to IJUNESST Journal Online Submission System.
Special Issue
IJUNESST invites you to submit your paper in our Special Issue.


Journal Paper Template
Authors are required to following the correct paper formatting of this journal.