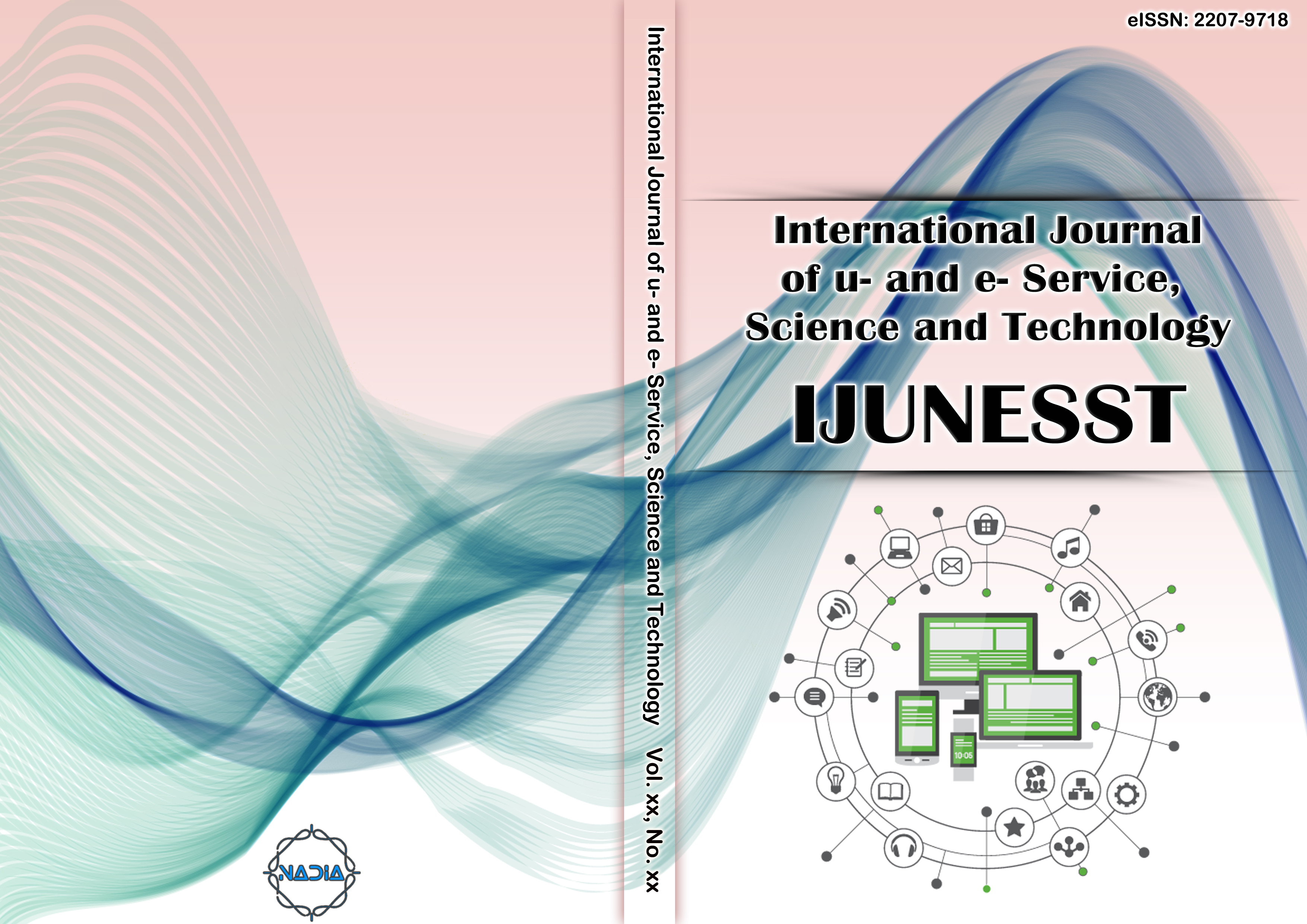 Bibliographic Information
ISSN: 2005-4246 (Print)
ISSN: 2207-9718 (Online)
Publisher: NADIA
Advisory/Editorial Boards
Aishy Amer, Concordia University, USA
Antonio Coronato, ICAR-CNR, Italy
Apple Fok, City University of Hong Kong, Hong Kong
Artur R. Lugmayr, Tampere University of Technology, Finland
Biplab Kumer Sarker, R & D, Innovatia Inc, Canada
Birgit Hofreiter, University of Vienna, Austria
Bok Min Goi, MMU, Malaysia
Chantana Chantrapornchai, Silpakorn University, Thailand
Chao-Tung Yang, Tunghai University, Taiwan
Chengcui Zhang, University of Alabama at Birmingham, USA
David Taniar, Monash University, Australia
David Zhang, Hong Kong Polytechnic University, Hong Kong
Debnath Bhattacharyya, Heritage Inst. of Technology, India
Dorin Bocu, University Transilvania of Brasov, Romania
Georgios Kambourakis, University of the Aegean, Greece
Hai Jin, HUST, China
Hakan Duman, University of Essex, UK
Helmar Burkhart, University of Basel, Switzerland
Honghao Gao, Shanghai University, China
Hongli Luo, Indiana University – Purdue University, USA
Hongxiu Li, Turku School of Economics, Finland
Igor Kotenko, St. Petersburg Institute for Informatics and Automation, Russia
J. H. Abawajy, Deakin University, Australia
Jianhua He, University of Essex, UK
Lei Ye, University of Wollongong, Australia
Ling-Jyh Chen, Academia Sinica, Taiwan
Liu Wanquan, Curtin University of Technology, Australia
Maricel Balitanas-Salazar, University of San Agustin, Philippines
Mei-Ling Shyu, University of Miami, USA
Mieso Denko, University of GUELPH, Canada
Poulami Das, India, India
Prashant Bansod, Shri Govindram Seksaria Institue of Technology & Science, India
Ranjan Kini, Indiana University Northwest, USA
Regis Cabral, FEPRO Piteå Sweden
Rosslin John Robles, University of San Agustin, Philippines
Sajid Hussain, Acadia University, Canada
Seng W. Loke, La Trobe University, Australia
SeongHan Shin, JAIST, Japan
Simone Fischer-Hübner Karlstad University, Sweden
Tomasz Janowski, United Nations University, Macao
Tony Y. T. Chan, The University of Akureyri, Iceland
Weijia Jia, City University of Hong Kong, Hong Kong
About
IJUNESST aims to facilitate and support research related to u- and e- Service, Science and Technology and its applications.
Ethics and Malpractice
A peer-reviewed journal committed to ensuring the highest standards of publication ethics.
Authors Guidelines
Authors of original research articles are encouraged to submit the author's version of the accepted paper.
Our Indexing
Indexing of a journal provides better visibility of the journal with a wider user.


Contents
IJUNESST publish articles in a quarterly basis.



Submission
Authors must submit their article directly to IJUNESST Journal Online Submission System.
Special Issue
IJUNESST invites you to submit your paper in our Special Issue.


Journal Paper Template
Authors are required to following the correct paper formatting of this journal.