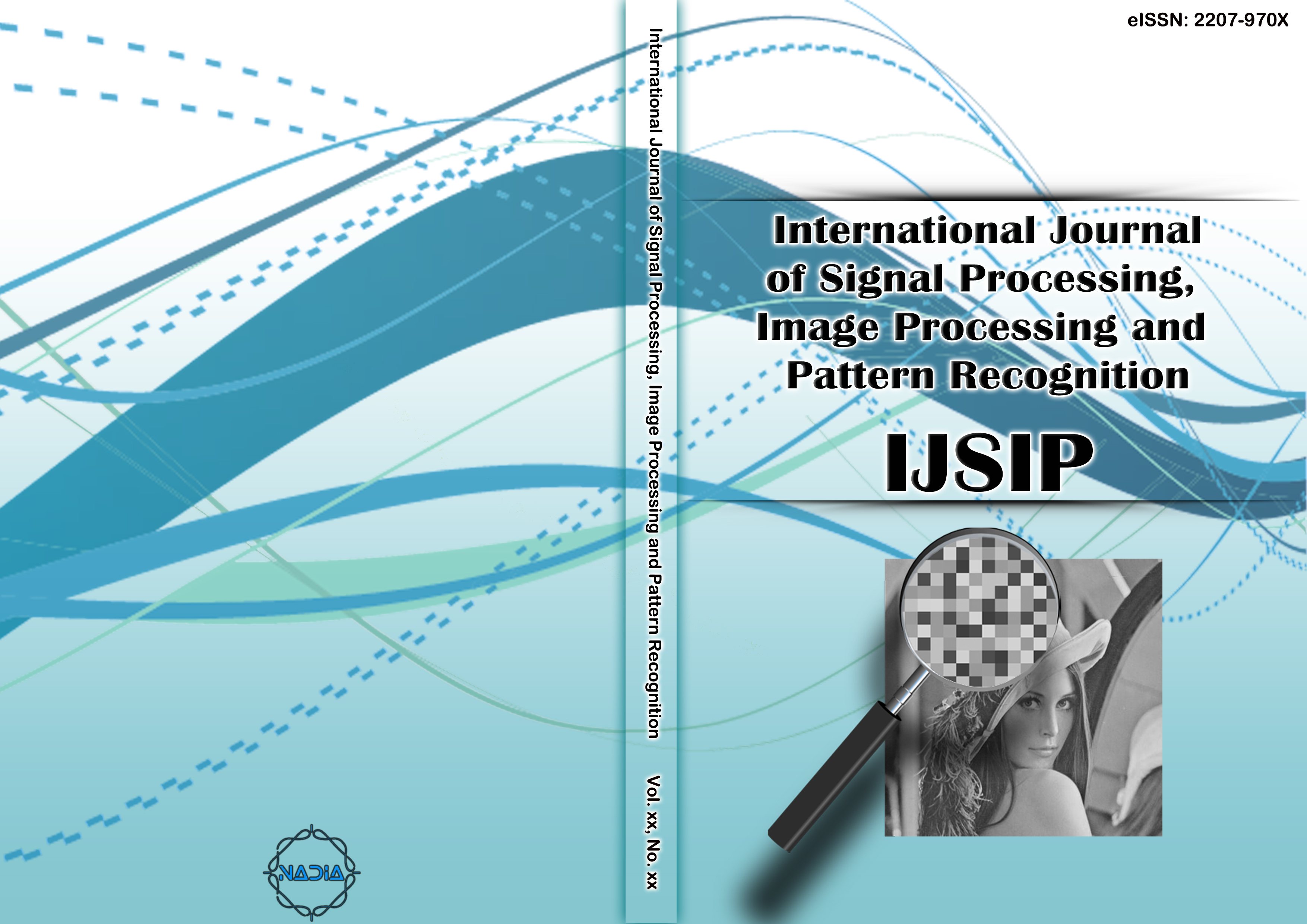 Bibliographic Information
ISSN: 2005-4254 (Print)
ISSN: 2207-970X (Online)
Publisher: NADIA
IJSIP aims to facilitate and support research related to signal processing, image processing and pattern recognition technology and its applications.
Our Journal provides a chance for academic and industry professionals to discuss recent progress in the area of signal processing, image processing and pattern recognition.
3D and Stereo Imaging
Analog and Mixed Signal Processing
Array Signal Processing
Audio/Speech Processing and Coding
Biomedical Imaging Applications
Biometrics and Pattern Recognition
Cognitive and Biologically-inspired Vision
Communication Signal processing
Computer Vision & VR
Constraint processing
Digital Signal Processing
Distributed Source Coding
Document Recognition
DSP Implementation and Embedded Systems
Face and Gesture
Hardware Implementation for Signal Processing
Higher Order Spectral Analysis
Illumination and Reflectance Modeling
Image and Video Retrieval
Image Processing & Understanding
Image-Based Modeling
Internet Signal Processing
Motion and Tracking Stereo and Structure from Motion
Multidimensional Signal Processing
Multi-view Geometry
Object Detection, Recognition and Categorization
Pattern Recognition in New Modalities
PDE for Image Processing
Performance Evaluation
Remote Sensing
Segmentation
Sensor Array and Multi-channel Processing
Shape Representation
Signal Processing Education
Speech, Audio and Music Processing
Statistic Learning & Pattern Recognition
Text processing
Video Analysis and Event Recognition
Video compression & Streaming
Editorial Board
A noble working association is desirable amongst the editorial board and the journal.


Ethics and Malpractice
A peer-reviewed journal committed to ensuring the highest standards of publication ethics.
Authors Guidelines
Authors of original research articles are encouraged to submit the author's version of the accepted paper.
Our Indexing
Indexing of a journal provides better visibility of the journal with a wider user.


Contents
IJSIP publish articles in a quarterly basis.



Submission
Authors must submit their article directly to IJSIP Journal Online Submission System.


Special Issue
IJSIP invites you to submit your paper in our Special Issue.
Journal Paper Template
Authors are required to following the correct paper formatting of this journal.